What government-funded programs are available to support your child?
Accessing public agencies isn't easy, but Undivided is here to support you with our collective knowledge from experts, professionals, and fellow parents. We help families navigate Regional Center, Medi-Cal, IHSS, CCS, SSI, and more.
If I already have private insurance, should I enroll my child in Medi-Cal?
IHSS wants to reduce my child's hours. What can I do?
How do I request respite services from Regional Center?
Does my child qualify for California Children's Services?
What do I need to do to help my child apply for Supplemental Security Income when they turn 18?
How do I access services through Regional Center?
Whether you are brand-new to public benefits or you're looking to get the most out of the services your child qualifies for, Undivided is here to partner with you to get the help you need.
During your Kickstart, your Navigator will talk with you about the government-funded programs your child currently accesses as well as services you may not know about. Your Navigator will help you identify goals and the next steps to maximize the benefits your child qualifies for.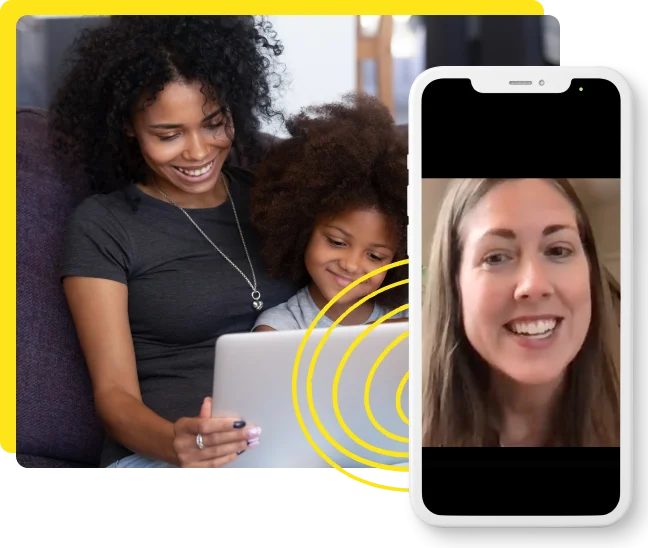 2. Make the most of public benefits
In addition to 1:1 support from your Navigator, you'll have access to all the organizational tools of the Undivided app for your child's medical records and other documents. The Undivided app is also home to step-by-step guides, checklists, articles, and videos created with the help of experts. Your Navigator or Undivided's Public Benefits Specialist can coach you to fill out applications, prepare service requests, file appeals, and follow up afterward.
3. Get access to ongoing support
You'll have access to unlimited messaging with your Navigator and monthly Boost calls throughout the year. Together, you'll make sure you can access all the resources available to help you fund your child's medical and therapeutic needs. Your Navigator is also here to connect you with answers to questions about special education, insurance, and other aspects of supporting your child.
Frequently Asked Questions
What is early intervention?
Prior to age 3, children across California can receive early intervention services from Regional Centers if they have been diagnosed with, or are at risk for, developmental delays or developmental disabilities. Many children receive occupational, physical, and speech therapy  and other early intervention services through Regional Center from birth to age 3.
What services does the Regional Center provide after age 3?
What benefits can my child qualify for based on our household income?
In addition to Medi-Cal and Regional Center services, California has benefit programs for utilities discounts, food and housing assistance, and more. A Navigator can help you understand your options.
What happens if my family's income is too high to get Medi-Cal?
Several government benefit programs, including IHSS, require that your child be enrolled in Medi-Cal before you can access services. For some families, however, parental income exceeds Medi-Cal's qualifying threshold. If this is the case for your family and your child is a Regional Center client, your child can enroll in full-scope Medi-Cal — which provides the full range of covered benefits, not just emergency services — using the Medi-Cal Home and Community-Based Services for the Developmentally Disabled Waiver. The HCBS-DD waiver is an institutional deeming waiver that is designed for individuals with developmental disabilities regardless of parental income, as long as your child's personal income and resource levels fall below program thresholds. See Medi-Cal's Institutional Deeming Waiver 101 to learn more.
If my family has private insurance, can we still use Medi-Cal?
Families who already have health insurance coverage for their child can still benefit from Medi-Cal, as it may be used as a secondary insurance to pay for certain expenses that primary health insurance doesn't cover. Check out our article about using Medi-Cal as secondary insurance to learn more about how to enroll, how to get medically necessary supplies and services covered, and how to handle treatment authorization requests (TAR).
What diagnoses are eligible for IHSS?
IHSS eligibility isn't based on a child's diagnosis but on their care needs. Children with disabilities may be eligible for IHSS to the extent that their disability-related care needs exceed those of a typically developing child of the same age.
For children, authorized services may include personal care services, meal preparation, paramedical services (medical services that are prescribed and monitored by a medical provider), accompaniment to medical appointments, and protective supervision (supervision to prevent injury to themselves or others due to severe impairments in judgment, orientation and/or memory). 
What is IHSS protective supervision?
Protective supervision is an IHSS service for recipients who require 24/7 supervision to prevent injury to themselves or others due to severely impaired judgment, orientation, and/or memory (their words). IHSS does not provide funding for 24/7 supervision, but it does award a block of hours to cover a portion of this need. Read more in IHSS: Protective Supervision and Paramedical Services.
Undivided partners with parents raising kids with disabilities to make sure they are supported at every turn.
Expert-driven content, guidance, and solutions

The answers you need during live events and expert office hours

A private, moderated community of parents like you

A dedicated Navigator and the innovative Undivided app
Trusted by parents in California
"To have someone who listens and understands, validates fears, and finds solutions is so helpful."
– The Smith Family
Your Navigator is your partner in supporting your children
Every Undivided Navigator has years of experience supporting families raising kids with disabilities or parenting their own through years of accessing benefits through Regional Center, Medi-Cal, and more. Partner with an Undivided Navigator for a Kickstart to learn first-hand what 1:1 support feels like!
What's your burning question? We'll help!
We'll help you find the answer to all your questions about IEPs, public benefits, insurance, and more.
Click the video to ask an Undivided expert →